When: 29th March 2023, 16:00 – 29th March 2023, 18:00
Event format: Online/virtual only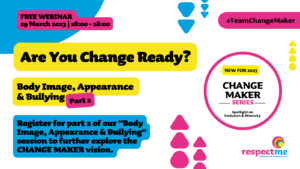 respectme are putting on a FREE webinar as part of their Change Maker Series which focuses on body image, appearance & bullying. We know that all of these things can have a significant impact on the mental health of students.
Register here for "Are You Change Ready? Body Image, Appearance & Bullying: Part 2". Guest experts will help support practitioners to prevent and address appearance related bullying through guidance on inclusion and diversity best practice and 'how to' tips.
For more information about the work of respectme and the rest of the Change Maker Series, visit their website.
This event has now happened – visit their website for more about the work they do.