This week Reena, our Student Health Project Coordinator, was over at West Lothian College for NUS Scotland's event 'Lead and Change'. This is an annual flagship training programme for new and returning officers. Officers can gain core skills, knowledge and competencies that they need to succeed in their roles. Here's a little bit about what she got up to!
Lead and Change is a wonderful opportunity for sabbatical officers to meet and get to know each other; it's a really exciting time in their new term as they get to know the ropes (or, for returners, get back into the swing of it). It also enables officers to learn more about the work of NUS Scotland and how they can get involved in any of the projects or campaigns going on.
Reena had a stall with lots of excellent Think Positive freebies, including a rather dashing eye mask, as modelled below…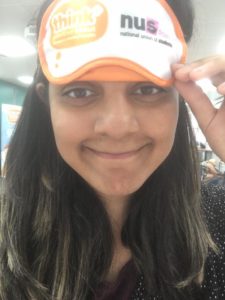 It was a great chance to speak to new officers about Healthy Body Healthy Minds Awards and the Student Mental Health Agreements. There was so much enthusiasm and positivity about both and we're very excited to work with officers on these. In the latest Letter of Guidance, the Minister called for "all universities and colleges to develop a strategy for mental health, and work with NUS Scotland and their local student association to develop a Student Mental Health Agreement." We were delighted to hear that this year mental health is a top priority for many of the officers!
*