SAAS Disabled Students' Allowance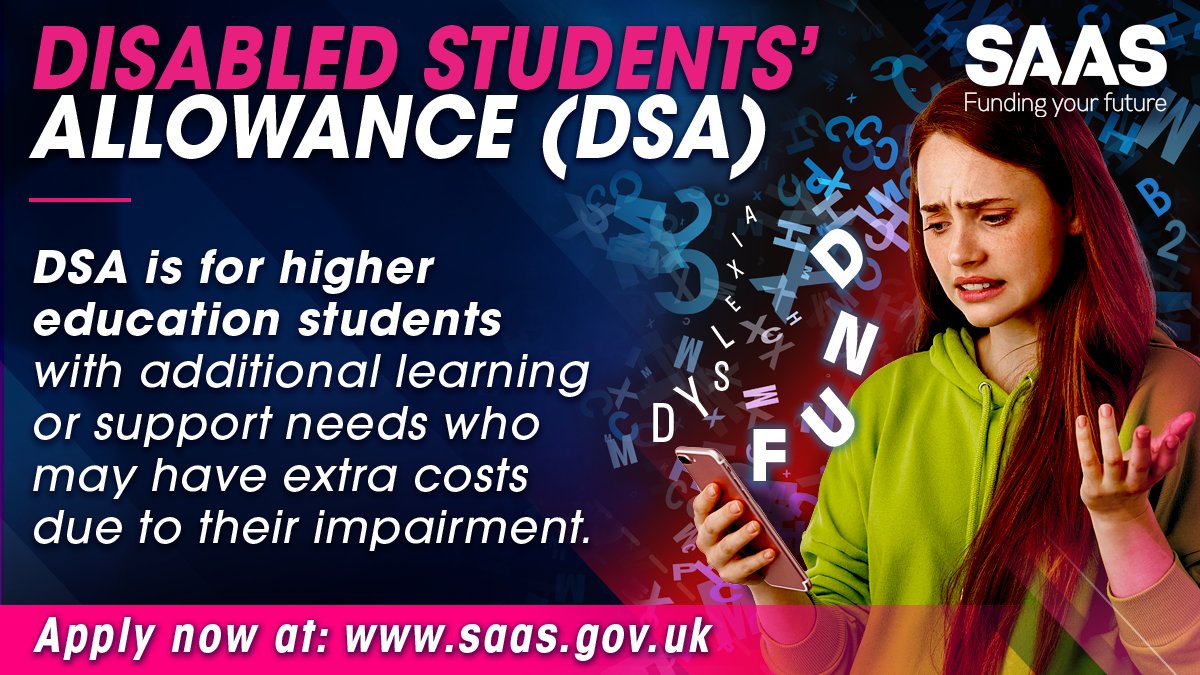 The Disabled Students' Allowance (DSA) from SAAS is a fund to support students who are studying in higher education and may have extra costs due to their disability or long term health condition.
Support is available for students experiencing the following:
(This list is not exhaustive)
dyscalculia
visual impairment
hearing impairment
limited mobility
mental-health difficulties
diabetes
autism
epilepsy
asthma
Other things to note:
The list above is not a complete list and SAAS advise that you should discuss your situation with a Disability Advisor in the first instance.
There are residency conditions which you can check here before applying
You can view the list of eligible full and part-time courses here
If you meet one or more of the following criteria, you may

not

be able to get DSA funding:
you're an EU student receiving tuition fees only
you're not studying an eligible course
you're receiving student support from Student Finance England, Wales or Northern Ireland
you're receiving funding disability related student support or funding from someone else
you're studying a work based learning course, and can get disability related support from your employer.
Funding Allowances
DSA has three allowances:
the basic allowance, the highest amount per year is £1,725
the large items' allowance, the highest amount for the duration of your course is £5,160
the Non-Medical Personal Help allowance (NMPH), the highest amount per year is £20,520
What you are eligible to receive is based on your individual needs and the course you're studying. Visit the DSA section of the SAAS website for more details and to apply.
If you are not entitled to DSA funding from SAAS, you may still be able to get funding from your college or university. SAAS advise that you should speak to the Disability Services at your college or university for advice.