Supporting students: Mental Health Journeys
[wc_row] [wc_column size="one-half" position="first"]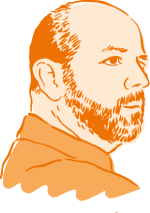 Richard
Age:
43
Course of Study:
Health and Social Care
Your relationship to student:
Learning Support Officer
Personal info:
Richard is 43 and lives with his mum who has ill health. He is a mature student returing to study after a long break.
Health:
Anxiety and problems with his hearing.
Issue student presents to you:
Richard visits you at the learning support office. He has problems with his hearing so needs additional support in some class activities. He has been in touch recently as he is concerned the break since he was last studying is quite great. He would like to know what options he has in terms of support and adjustments as he is finding things difficult at the moment with additional caring responsibilities he has outside of work and it also takes him a long time to get to and from college.
[/wc_column] [wc_column size="one-half" position="last"] [wc_toggle title="Click for guidance notes" layout="box"]
NUS Scotland's Think Positive Self-Management resource is a useful document to help students identify ways to support their own mental health and to enable staff to support them too. You can find the resource here: thinkpositive.scot/resources
[ssba_hide]
[/wc_toggle] [/wc_column] [/wc_row] [ssba_hide]