Opportunity to co-produce a National Student Mental Health Campaign!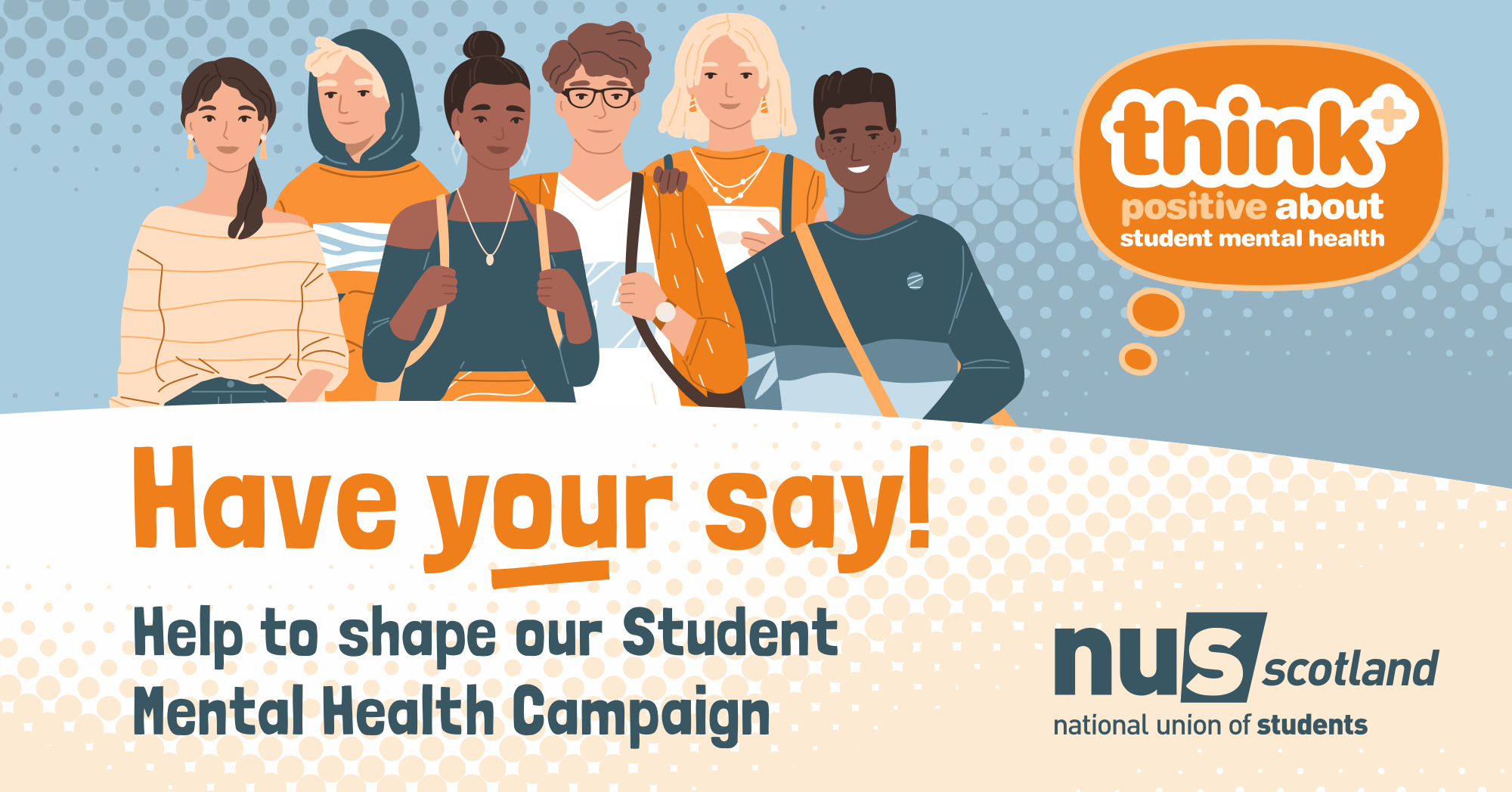 Think Positive, funded by the Scottish Government, commissioned research to evaluate the effectiveness of student mental health support in Scotland and to support the FE and HE sectors to further develop appropriate practice in the delivery of mental health and wellbeing services to students. One of the recommendations from this research was
"NUS Scotland could work with the Scottish Government to lead a national awareness-building campaign to reduce stigma relating to student mental health and to challenge preconceived ideas about who support is for/not for."
This campaign will be coproduced with students and is for students.
Who can get involved?
Students who have experience of mental ill health who will be studying in Scotland during 2022-2023.
What will it involve?
Cocreating a Scotland focussed Student Mental Health Awareness Campaign for students by students. A group of ten students plus facilitators will meet online (dates below) to decide what the campaign should focus on, it's aims and how it should be delivered. We'll also communicate via email to keep you in the loop as it develops. You'll have the opportunity to talk about what is important to you and what change you would like to see.
Meeting dates (via Zoom)
Wednesday 12th October 3pm-4.30pm
Wednesday 26th October 3pm-4.30pm
Why should I get involved?
Participants will gain the experience of cocreating a national campaign which could have a positive impact on thousands of students across Scotland.
Group members will be reimbursed £35 total for their time and contributions to the two group meetings.
How to get involved?
Just email us here. We'll need you to include your name, pronouns, the institution that you will be studying at during 2022-2023 and any additional support that will help you contribute to the group.
The deadline to register to take part in the group has been extended to Tuesday 4th October 2022 at 3pm.