Strathclyde Sport Union's Small Grant Scheme project
Published on 13 February 2020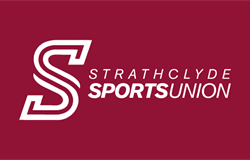 "Morning! Would you like a free breakfast?" we chimed to resigned students filing into the library on the first morning of the December exam period.
With trays of warm croissants, fat pain au chocolats, muffins and countless jugs of hot coffee, the stall quickly became the focal point of the library foyer. Initially, we were met with a polite but disengaged "no thank you" and a couple of surprised stares, but soon enough students clocked on to the free food and the queue began to form. Students were shocked,
"This is all free?"
"We don't have to pay?"
"Why are you doing this?"
Students genuinely couldn't wrap their heads around the fact they were getting a free breakfast with no catch.
From a first glance you could agree it maybe seemed a bit strange. The Sports Union putting on a wellbeing stall in the library during exams isn't exactly our usual scene but when we first heard about the Think Positive Small Grant scheme it got our minds whirring around what we could do.
The idea came together fairly organically; there are no sports fixtures during exams to allow students to focus on their studies so that in turn, provides us in the Sports Union with a fair amount of free time so we thought why not uses that to put on some student support? We're no experts on stress management over here but we do know a good day starts off with your breakfast. A simple and easy way to get your day off on the right foot. We also know that this is usually the most neglected meal of the day, let alone during the stressful exam period. Therefore, the solution came to us, give students their breakfast in the library when they come in; no fuss, no going out of their way, just a simple,
"Hello how you doing? Here's a coffee and a croissant."
We soon realised that our quick check-ins were some of the first conversations students had had that week and it was more often than not the first thing they'd eaten that day. Tears welled up when we told nervous students that we had faith in them, we got fist bumps for good luck and even the odd hug.
In truth we had no idea the impact this little project would have. We just thought we'd do a helpful thing with our small grant fund and hopefully it would help out a few students. Instead, we received overwhelmingly positive feedback; face-to-face, on our feedback whiteboard, on social media and in the wellbeing services message book.
Exams are brutal and students need all the help they can get but what we've learned from this is that it doesn't need to be anything complicated and you don't need to be an expert in mental health to help out. Taking a simple means of support directly to the students where they need it, when they need it is key in effective delivery on limited resources.
We're now looking forward to coffee and croissants 2.0!